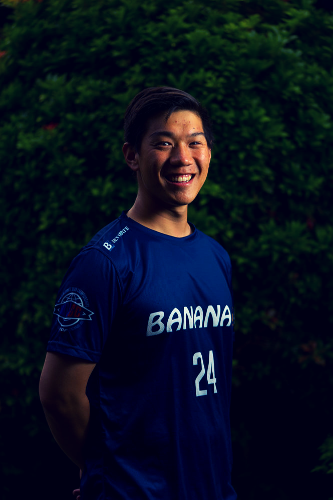 This is part of our Community Spotlights campaign, where each month we feature a VUL community member or team that is doing awesome stuff for ultimate in Vancouver. 
Alex Lam
Alex has been one of the key coordinators for the Misfit Youth Program for the past several years and has played a big role in the success of that program which comprises of 10-12 youth club teams in Vancouver that train for regionals and/or nationals each summer.  
# Years in Ultimate:
12
Teams:
Canada Butters (Current VUL team), Banana Cutters (Past team), Mio Grape (Past team)
Roles in the Community:
Misfit Coordinator
Coach
Volunteer
Captain
League Player
Club Player
What are you most excited for about the sport of ultimate these days?
The junior scene in BC! I'm always blown away by the talent that kids have. This year at tryouts it really seemed that almost every highschooler could throw a full field flick huck. I've been honored to see so many kids, come up through the jr. club scene and then move on to play Team Canada or Adult Club teams I'm always excited to see what the next group of young athletes has to bring!
As a coach, how do you instill SOTG in all your players?
I think that SOTG in a competitive setting really comes down to respect. Respecting your teammates both on and off the field by being supportive on the sideline. Know that your teammates are trying their hardest on the field and similarly you are as well. Respect the facilities by picking up after yourself. Respect the opponent and believe that they're making honest calls as a result of what they saw. I try to make sure all players behave in a respectful manner and I think that allows them to really enjoy the game, and makes room for spirit circles with no animosity etc. 
Tell us about a favourite ultimate memory...
I have many memories throughout the years but one that really stands out was the first time I went to Pumpkin Pull over on Vancouver Island. It was one of my first travelling tourneys, we had a bedbug scare, at it was pouring rain, my van battery died because some teammates were camping out in it. But we dressed up and had this banana suit that everyone had to score in. You couldn't pass on the suit until you scored a point in it. It just made all the other things seems to fade away and we got to play the sport we love with a wacky twist. Add fireball, spirit games and other fun teams in costumes and its one of my favourite tourney memories!
What's your favourite ultimate throw and why?
A flick blade, one of the zippiest throws out there. Only not caught due to receiver error.
---
Do you know someone we should highlight with our Community Spotlights? Tell us about them! Email mm@vul.ca for more info on how to nominate someone. 
Past Community Spotlights: