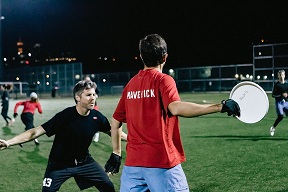 Year over year this league continues to grow because more and more ulti players are discovering how awesome 5-on-5 ultimate is. This unique format is played in the evenings under lights so you never have to worry about cancellations due to weather.
With only 5 players on the field, each person tends to get more touches of the disc, so it's a great league for improving your catching and throwing skills. On top of that, it's a really fun way to stay fit (and warm on the colder days) because you are constantly running. The good news, you can sub-off anytime you want. 
Since this is a "hat league", you'll also get to make more connections with other cool people in the ulti community. 
Playing Info
Format: Hat League with 5-on-5 format
Duration: 10 weeks from September 24 to December 3. No games Thanksgiving Monday.
Timeslots: Choose from 4 options:

Monday Recreational: games are 7-9 PM or 8-10 PM, depending on the field, games rotate
Monday Competitive: 7-9 PM or 8-10 PM, depending on the field, games rotate
Thursday Recreational: 8-10 PM
Thursday Competitive: 8-10 PM

Locations:
Age: 19+, or 17+ with parental consent
Inclusivity: All players are welcome, including LGBTQ2+ and transgender.
The Recreational options are ideal for beginner and intermediate players, as well as advanced players who involve everyone on their team. The Competitive options are for intermediate and advanced players; new players should select Recreational instead.
You play on the same day all season.
Note this is an adult league. If you are a high school student, see the Fall Junior Turf league.
Important Dates for 2018
| | |
| --- | --- |
| August 27 | Registration Opens |
| September 13 | All Registration Closes |
| September 24 | Games start |
| October 8 | Thanksgiving - no league games |
| December 3 | Games finish |
2018 Placement Fees:
| | |
| --- | --- |
| Single | $85.00 |
| Duo (2 people) * | $150.00 |
| Trio (3 people) * | $225.00 |
* Note: For Duo's and Trio's at least one person must be women-matching.
How to register
Read the registration guidelines for Hat leagues, and then register online once registration opens.