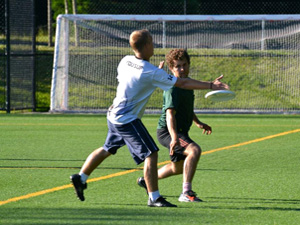 The VUL is hosting Surrey Ultimate again this summer!
The league is the same as in past years: 2 divisions with scheduled games on Sunday evenings, plus pickup on a weekday evening during part of the summer.
Space is very limited - the league completely filled up in previous years.
Playing Info
If you have any questions, contact the Surrey Coordinator, Kristine, via surrey@vul.ca.
Important Dates for 2019
| | |
| --- | --- |
| March 18 | Team Registration Opens |
| April 1 | Individual Registration Opens |
| April 14 | Free pickup at the South Surrey Athletic Park field #10, 6-8:30 p.m. |
| April 21 | Registration Closes (Extended to April 23 - there is room for one more team!) |
| April 28 | Mandatory Captain's Meeting (3:30-5 p.m.) & League Games Start |
| August 25 | League Games End |
| July 4 to August 29 | Thursday Pickup |
| Holidays | No games on the May, July, and August long weekends |
2019 Fees
Team Fees
| | |
| --- | --- |
| League Fees | $655.95 |
| Membership | $225.00 |
| GST | $44.05 |
| TOTAL | $925.00 |
| Deposit | $100.00 |
The average roster has about 16 players, so the cost per player is less than $4 per week -- a good deal for 2+ hours of fun exercise!  Membership includes the VUL, BC Ultimate, and Ultimate Canada.
Placement Fees
| | |
| --- | --- |
| Single | $60 |
| Duo (2 players) | $100 |
| Trio (3 players) | $150 |
At least one player of a Duo or Trio must be a women-matching player. Note: If you have a team to play with, you do NOT need to register for placement. You just need to pay your captain. See details below.
How to register
Teams
Read the registration guidelines for Standard leagues, and register online once registration opens.
When you register, you can pay just the deposit or the full amount. If you choose deposit, the balance is due before registration closes.
After you register, invite your players to join your roster. You must have a minimum of 12 players when registration closes, but we recommend at least 16.
All teams must send at least one captain to the Captain's Meeting.
Players
We encourage players to find a team to join. Ask your friends, add your name to Matchmaker, or post in the Personals forum. 
If you find a team to join, you do NOT need to register for Placement or pay the VUL any fees. The captain will invite you to join their roster instead, and you will pay them a share of their Team fees. 
If you cannot find a team, starting on April 1 you can register by yourself or with 1-2 friends, and we will try to create teams of individuals after registration closes. Placement is dependent on the number of registrants and is not guaranteed. NOTE for men-matching players: You will have a much better chance of being placed if you register in a Duo or Trio. If you cannot be placed on a team, your fees will be refunded.
*Please note that at this time we are only accepting Single women-matching registrants or Duos with women-matching registrants.