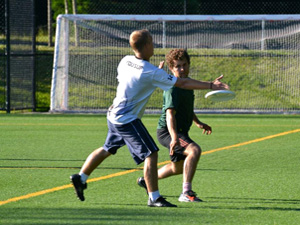 The VUL is hosting Surrey Ultimate this summer!
The league is the same as last year: 2 divisions with scheduled games on Sunday evenings, plus pickup on a weekday evening during the summer.
Space is very limited - the league completely filled up in previous years. We might be able to add field space for a 3rd division, but register early to claim your spot!
Playing Info
If you have any questions, contact the Surrey Coordinator, Kristine, via surrey@vul.ca.
Important Dates for 2018
| | |
| --- | --- |
| March 18 | Registration Opens for Captains & Players * |
| April 15 | Registration Closes |
| April 22 | League Games Start |
| TBD | Skills Clinic(s) |
| June 5 | Tuesday Pickup starts |
| July 1 | No games on Canada Day |
| August 7 | Tuesday Pickup ends  |
| August 26 | League Games End |
* See important note about registration below.
2018 Fees
Player Fees 
| | |
| --- | --- |
| League Fees | $42.38 |
| VUL Membership | $10.00 |
| GST | $2.62 |
| TOTAL | $55.00 |
VUL Membership includes membership with BC Ultimate and Ultimate Canada.
How to register
Read the registration guidelines for Standard leagues, and then register online once registration opens. Teams must have a minimum of 12 players, but we recommend at least 15. 
NOTE: Registration for Surrey is different from other VUL leagues:
All players pay a fee to the VUL rather than to their captains. All players must register online once registration opens.
Captains claim a spot for their team by registering as normal. However, they only pay the Player Fee when they register (rather than a large team fee).
To join their team, players must register and pay online. Their captain will later send them an invite to join their team's roster. (i.e. Players will not select their team during registration like they did previously when registering at the Surrey website)
If you're looking for players or a team to join, add your info to Matchmaker or post in the Personals forum.