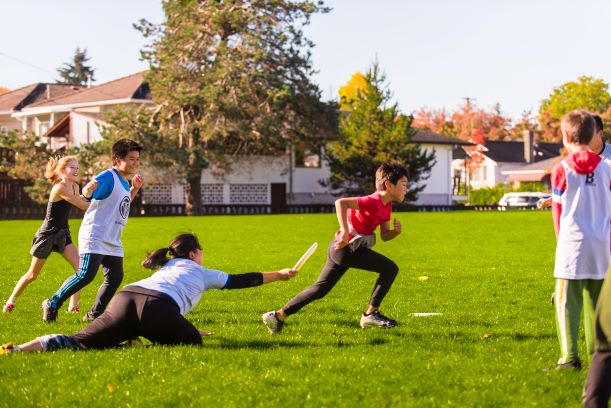 A great mix of drills, activities and scrimmages for players aged 13 to 15! All levels welcome!
This weekly co-ed program will teach new techniques and strategies from expert instructors in a fun and welcoming environment. This skills series focus' on fun, basics and developing basics for a player that is currently interested in playing recreationally for fun. 
Players will have the opportunity to:
Learn the different types of throws and improve upon what they may already know.
Learn offense and defensive strategy. 
On field and in game instruction. 
Enjoy ultimate in an amazing and spirited atmosphere.
All activities have been modified to adhere to the provincial Return to Sport guidelines.
Playing Info for 2023
Format: A co-ed skills development program with a mix of drills, activities and scrimmages
Duration: 10 weeks, May to August.
Schedule: 
Age: 13-15 years old
Inclusivity: All players are welcome, including LGBTQ2+ and transgender. 
Please bring:

Bottle of water. 
Cleats or runners can be used on synthetic turf fields, but we recommend cleats.
A dark and white t-shirt. To purchase a VUL reversible jersey, choose that option during the registration process. View sizing guide
Important Dates for 2023
| | |
| --- | --- |
| March 6 | Online Registration Opens |
| May 28 | Programs Start |
| June 7 | Online Registration Closes |
| July 2 | No programs - Canada Day Long Weekend |
| August 6 | Programs End |
2023 Fees
| | |
| --- | --- |
| Single Player | $200.00 |
| VUL reversible jersey | +$25.00 |
If you need financial assistance, see our list of organizations that support families. You can also donate to them to support other families. 
How to register
All players should be age 13 to 15 (as of December 31 this year).  However, we will consider players of other ages on a case-by-case basis.
This is not a team based program. We divide players up based upon skill level. However, everyone will have a chance to play with each other as we move through the various skills and games.
Complete these steps to register:
All registration is done online, and payment can only be done online with a major credit card, or via an e-transfer. No in-person payment available.
Before the first game, all players must create an account on this website, and agree to the Statement of Consent.
On an annual basis, all players must provide Parental Consent. This is now done online. When a player registers, they are asked for their parent or guardian's contact information. Emails are then sent to the player and parent/guardian with instructions on how to provide consent. 
If you have a question, check out our Youth FAQ for answers. If you still need help, email youth@vul.ca