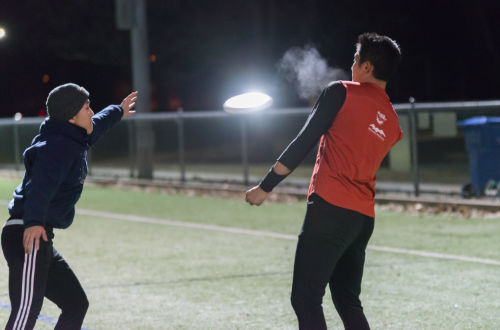 Feb. 8 Update: Due to the current restrictions, New West Winter Hat League is cancelled for the season.
---
We're excited to once again offer our New West Winter Hat League in 2021!
Start your week off with some fun exercise and the opportunity to meet new ultimate friends. The fast-paced 5-on-5 format ensures players stay warm even on cooler nights.
This year we have a new, earlier time! Play from 7-9pm under the lights at Mercer turf stadium.
For "Hat" leagues, players are assigned to teams as if their names were drawn from a hat. We do our best to ensure skill levels are balanced so games are as close as possible.
2021 COVID Updates
Due to COVID-19, the league size is limited and will be played as 4-on-4. We'll continue to use regular 5-on-5 rules (e.g. sub on the fly, etc.) with the following exceptions:
You will be in a cohort of 4 teams. We'll mix up the teams within the cohort part way through the season so you don't have the same opponents the entire semester.
Gender matching ratio is 2M/2W
No subs permitted - please only register if you can commit to most of the season!
Playing Info
Format: Hat League 4v4 format
Duration: 10 weeks from Jan. 17 to March 21
Timeslot: Sundays, 7 to 9 p.m.
Schedule: Two games to 21 per evening
Location: Mercer Stadium (artificial turf)
Age: 19+, or 17+ with parental consent
Inclusivity: All players are welcome, including LGBTQ2+ and transgender.
If you have any questions, contact the Burnaby/New West Coordinator, Kristine, via burnaby@vul.ca.
Important Dates for 2021
| | |
| --- | --- |
| December 10 | Registration Opens |
| January 11 | All Registration Closes |
| January 17 | Games Start |
| March 21 | Games Finish |
Please keep March 28 open in case we need to extend the season by a week.
2021 Fees
| | |
| --- | --- |
| Single | $65 |
| Duo (2 people) | $110 |
For Duos at least one player must be women-matching.
Note: We recommend men-matching players register as part of a Duo. League sizes are limited due to COVID-19 policies and spaces for Single men-matching players fills up quickly.
How to register
Read the registration guidelines for Hat leagues, and then register online once registration opens.
Register here starting Dec. 10!
Update: please note that we are currently full for Single men-matching players due to COVID policies limiting league cohort sizes - when you register, we will add your name to a wait list. Depending on demand and field availability, we may open a second Fraser Valley winter hat league in Surrey. If you are interested, please email surrey@vul.ca