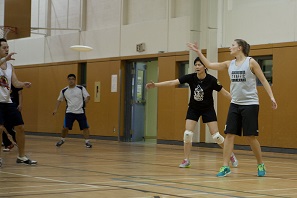 Season Cancelled for 2022 - Winter 2022 Indoor League
---
What's a fun way to be active in winter? Obviously chasing plastic around a gym while making new ulty friends! For those bothered by the elements, there's no wind or rain (unless something goes really wrong!)
The league is limited to 12 teams and it usually fills up very fast, so don't delay registering!
This is a "hat league" which means players register to be placed on teams. You can register as a Single.
Contact the Coordinators via winter_indoor@vul.ca if you have any questions. For full information for indoor league players and spectators please see our VUL COVID-19 Policy. 
Playing Info
Notes for 2022
Please refer to the VUL COVID-19 Policy for all information regarding players for the indoor league. 
Important Dates for 2022
| | |
| --- | --- |
| December 6 | Registration Opens - 5:00pm |
| January 10 | Registration Closes - 5:00pm - we usually sell out before then! |
| January 23 | Games Start |
| April 10 | Games Finish |
2022 Fees
Fees include GST, VUL Membership etc.
How to register
Read the registration guidelines for Hat leagues, and then register online once registration opens.