Overview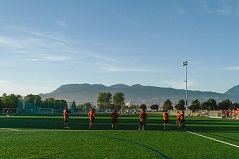 Our mother of all leagues, played during Vancouver's best weather!
With over 230 teams and 30 divisions, this is the largest ultimate league on the planet. Since there can be up to 7 divisions playing each night, there's room for everyone to play at their level.
Our most popular option is the Regular Format where you play two games per night to 13 points over 3 hours. For anyone short on time, we also offer a Single Format where you play one game to 17 points over 2 hours. For the Single Format, we try to schedule games near playgrounds to be family-friendly.
Are you new to the VUL? Read our article titled 'How to Start Playing Summer Ultimate as an Adult in Vancouver'
Playing Info
Format: Standard league with a co-ed 7-on-7 format. 
Duration: 15 weeks from May to mid-August 
Schedule:

Regular: Mon, Tues, Wed, or Thurs. Usually two games per night, from 6-9 pm or 7-10pm.
Single: Mon & Wed only. One game per night over 2 hours, usually from 6:30-8:30 pm.
In either case, you'll play on the same night all season.

Location: We play at fields all over Vancouver, and rotate teams between fields over the season. Click here to see a list of fields for the specific nights.
Age: 19+, or 17+ with parental consent
Important Dates for 2017
March 13
Registration Opens for Returning teams
March 27
Registration Opens for New teams
April 10
Registration Opens for Individuals (singles and duos)
April 17
Team Registration Closes
 
 
April 18
Registration for Individuals Closes
April 24 - 27
Spirit Week - A fun warm up before games start 
April 29
Ultimate Day - Mandatory Captains' meetings, workshops, clinics, BBQ
May 1
Leagues Games Start
June 10
Super Clinic and BBQ at Jericho
June 10
Art Hawkins Great Canadian Ultimate Game
June (TBD)
Captain's Wingding
August 7
BC Day - no games
August 14
Final night of Summer League
August 15-17
Challenge Week - schedule your own game against a favourite opponent
2017 Fees
Team Fees 
| | |
| --- | --- |
| League Fees | $1104.76 |
| GST | $70.24 |
| VUL Membership | $300.00 |
| Capital Levy | $75.00 |
| TOTAL | $1550.00 |
| Deposit | $100.00 |
VUL Membership includes membership with BC Ultimate and Ultimate Canada.
Placement Fees
| | |
| --- | --- |
| Single | $95.00 |
| Duo (2 people) | $170.00 |
| Trio (3 people) | $255.00 |
For Duos and Trios, at least one person must be female.
How to register
Read the registration guidelines for Standard leagues, and then register online once registration opens. Note that teams must have a minimum of 12 players, but we recommend at least 15. 
If you're looking for players or a team, add your info to Matchmaker or post in the Personals forum.
All teams must send at least one captain to the Captain's Meeting. Captains who have less than 2 years experience as a Captain in the VUL must also attend a Captain's Clinic.