Update April 5 2021:  
Adult team sports are currently suspended by the province. Read about our Summer Plans for more information, and be sure to subscribe to our Community Newsletter to get the latest updates. 
---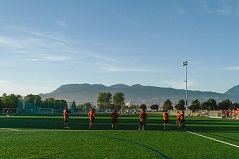 Our mother of all leagues, played during Vancouver's best weather!
With over 230 teams and 30 divisions, this is the largest ultimate league on the planet. Since there can be up to 7 divisions playing each night, there's room for everyone to play at their level.
We offer two options. In Regular format, our most popular option, you play two games per night over 2.5 hours. In Single format, for those with families or less time, you play one game over 2 hours. We try to schedule Single games near playgrounds to be family-friendly.
Are you new to the VUL? Read 'How to Start Playing Summer Ultimate as an Adult in Vancouver'.
New in 2019
You spoke and we listened! Games on grass fields will be scheduled to start at 6:30pm rather than 6:00pm (and expected to start at 6:30 pm). Everyone is busier these days, and this better reflects the reality of what actually occurs. Read more about why we made this change
Playing Info
Format: Standard league with a co-ed 7-on-7 format. 
Duration: 15 weeks from May to mid-August 
Schedule:

Regular: Mon, Tues, Wed, or Thurs. Usually two games per night, starting at 6:30 or 7:00 pm.
Single: Mon or Wed only. One game per night over 2 hours, usually from 6:30-8:30 pm.
In either case, you'll play on the same night all season.

Location: We play at fields all over Vancouver, and rotate teams between fields over the season. Click here to see a list of fields for the specific nights.
Age: 19+, or 17+ with parental consent
Inclusivity: All players are welcome, including LGBTQ2+ and transgender. 
Note this is an adult league. If you are a high school student, see the Summer U19 League
Important Dates for 2020
| | |
| --- | --- |
| March 16 | Registration Opens for Returning teams |
| March 30 | Registration Opens for New teams |
| TBD | Registration Opens for Individuals (singles and duos) |
| TBD | Registration Closes |
| TBD | Ultimate Day - Mandatory Captains' meetings, workshops, clinics, BBQ |
| TBD | Spirit Week - A fun warm up before games start  |
| TBD | Leagues Games Start |
| June (TBD) | Super Clinic and BBQ at Jericho |
| June (TBD) | Art Hawkins Great Canadian Ultimate Game |
| TBD | Captain's Wingding |
| August 3 | BC Day - no games |
| August 17 | Final night of Summer League |
| August 18-20 | Challenge Week - schedule your own game against a favourite opponent |
See also our Tournament calendar for a list of local and regional events.
2020 Fees
NOTE that fees will be adjusted once we know how long the season will be.
Team Fees 
| | |
| --- | --- |
| League Fees | $1295.24 |
| Membership | $300.00 |
| Capital Levy | $50.00 |
| GST | $79.76 |
| TOTAL | $1725.00 |
| Deposit | $100.00 |
The average roster size is about 18 players (excluding subs), so the cost per player is about $6 per week -- a pretty good deal for 2+ hours of fun exercise!
Membership includes membership with the VUL, BC Ultimate, and Ultimate Canada
Placement Fees
| | |
| --- | --- |
| Single | $95.00 |
| Duo (2 people) | $170.00 |
| Trio (3 people) | $255.00 |
For Duos and Trios, at least one person must be a women-matching player.
How to Register
Read the registration guidelines for Standard leagues, and then register online once registration opens. Note that teams must have a minimum of 12 players, but we recommend at least 15. 
If you're looking for players or a team, add your info to Matchmaker or post in the Personals forum.
All teams must send at least one captain to the Captain's Meeting. Captains who have less than 2 years experience as a Captain in the VUL must also attend a Captain's Clinic.