Updated June 5 - ready to go for 2021!
---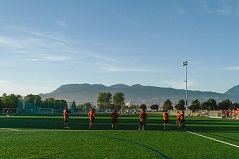 Our mother of all leagues played during Vancouver's best weather!
With 230 teams, this league is one of the world's largest ultimate leagues. We have 7 divisions each night so there's room for everyone to play at their level.
We offer two options. Regular format is the most popular option - you play two games per night over 2.5 hours. Single format is for players with families or less time - you play one game over 2 hours. Single games are often near playgrounds to be family-friendly.
New to the VUL? Read How to Start Playing Ultimate as an Adult in Vancouver.
Read about other Summer options
Playing Info for 2021
Format: Standard league with a co-ed 7-on-7 format. 
Duration: 7-8 weeks from June to mid-August, plus optional fun games up to August 30.
Formats & Schedule:

Regular: Mon, Tues, Wed, or Thurs. Usually two games per night, starting at 6:30 or 7:00 pm.
Single: Wednesday only. One game per night over 2 hours, usually from 6:30-8:30 pm.
For both options you'll play on the same night all season.

Location: We play at fields all over Vancouver, and rotate teams between fields over the season. 
Age: 19+, or 17+ with parental consent
Inclusivity: All players are welcome, including LGBTQ2+ and transgender. 
Important 2021 Notes
Duration depends on the number of teams due to field constraints. We expect 8 weeks and will know when reg closes. 
Most captains preferred 7v7 this summer. If two teams are short players, they can play 5v5 that day.
Safety is still paramount. We may start with 1m or 2m marks. Read about our Summer Safety Plans. 
Games will start at 6:30 pm sharp on grass, and 7:15 sharp on turf. Read more about Start Times
Looking for players or a team? Post in Matchmaker or the Personals Forum. If you can't find a team, you can register as Single or Duo and we will try to form a few teams. 
2021 Dates
| | |
| --- | --- |
| June 7 | Registration Opens for all teams |
| June 11 | Registration Opens for Individuals (singles and duos) |
| June 18 | All Registration Closes |
| June 24 | Captains Meeting - online 7pm - 9pm |
| June 28 | Leagues Games Start |
| August 2 | BC Day, Games as scheduled  |
| August 16 | Monday League Games End  |
| August 17 or 24 | Tuesday League Games End*  |
| August 18 | Wednesday League Games End  |
| August 19 or 26 | Thursday League Games End*  |
| Up to August 30 | Challenge Games - schedule your own game against a favourite opponent |
*Teams on Tuesday and Thursday will play 1 week, either the week of August 17th or the week of August 24th.  
See also our Tournament calendar for a list of local and regional events.
2021 Fees
Team Fees 
| | |
| --- | --- |
| League Fees | $680.95 |
| Membership | $200.00 |
| Capital Levy | $0.00 |
| GST | $44.05 |
| TOTAL | $925.00 |
| Deposit | $100.00 |
The cost per player is about $7-8 per week -- a great deal for hours of fun exercise! 
If you register and need to withdraw, a refund will be provided you do so BEFORE registration closes. 
Placement Fees
We encourage you to find a team as many teams need players. If you cannot, you can register as a Single or Duo and the VUL will attempt to form a few teams.
| | |
| --- | --- |
| Single | $70.00 |
| Duo (2 people) | $120.00 |
For Duos and Trios, at least one person must be a women-matching player. 
How to Register
Read the registration guidelines for Standard leagues, and then register online once registration opens. Note that teams must have a minimum of 12 players, but we recommend at least 15. 
If you're looking for players or a team, add your info to Matchmaker or post in the Personals forum.
All teams must send at least one captain to the Captain's Meeting. Captains who have less than 2 years experience as a Captain in the VUL must also attend a Captain's Clinic.