Welcome to Vortex! 
Are you a high school player near Surrey, New West, and Burnaby looking to compete at the BC or Canadian Ultimate Championships? If so, then Vortex Ultimate is for you! 
Our focus is to provide opportunities for young people in the Fraser Valley in a positive environment emphasizing respect, fair play, teamwork, hard work, and commitment. Win or lose, by the end of the summer. Players will have a sense of accomplishment, significantly increased knowledge and skills, a new set of friends, and many fun memories.
2023 Programs
Follow the link for complete Winter 2023 programs offered by Vortex, located in Surrey: 
---
Vortex Winter U19 
Vortex Winter U19 Competitive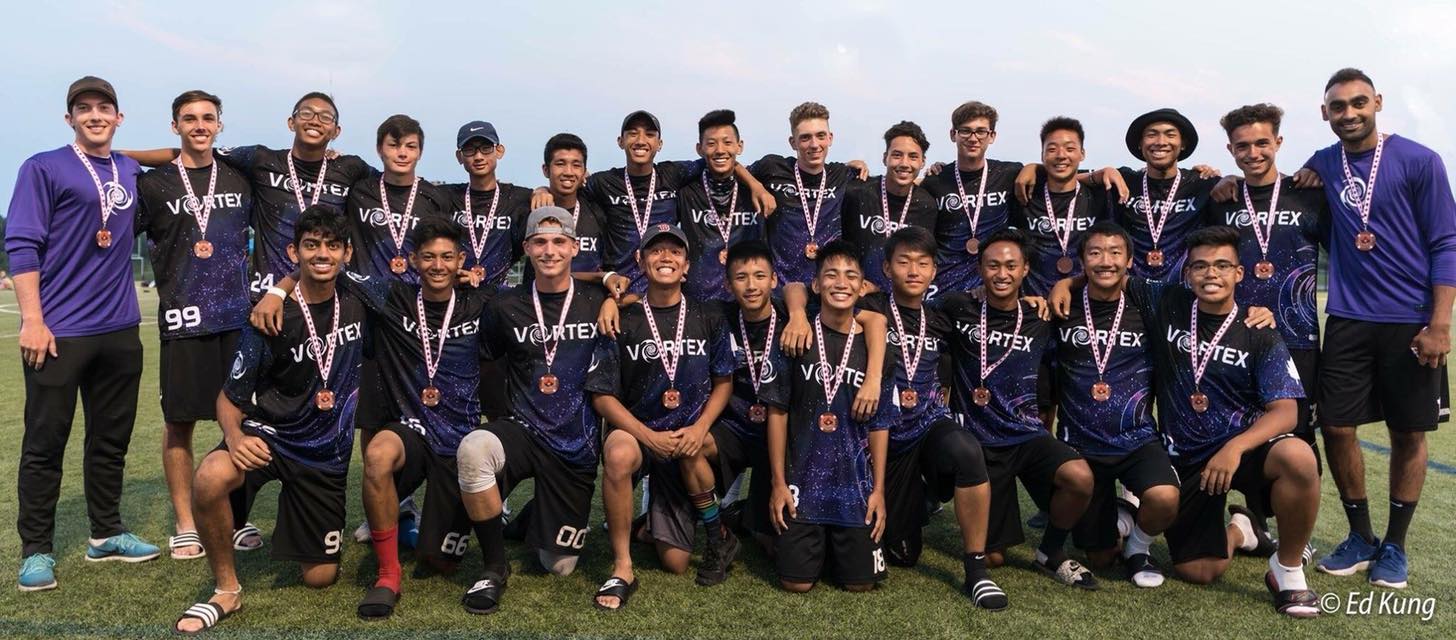 This limited space program is for experienced players looking to develop their skills in a competitive environment. There will be a selection process for the U19 program.
Vortex Winter U16 Intermediate 
This is a developmental program for players of all ages meant to improve their skills and develop their passion for the sport of Ultimate in a non-competitive environment. 
Playing Info
Format: An Open and Women's development program with a mix of drills, activities, and scrimmages
Duration: 10 weeks
Days: Both programs run on Saturday evenings
Times & Locations: Newton Athletic Park (6-8 pm)
Age: 13-18 years old (or skilled younger players on a case-by-case basis) 
Inclusivity: All players are welcome, including LGBTQ2+ and transgender
Important Dates for 2023
December 29th - Registration Opens
January 14th - All Programs Start
March 18th - All Programs End
2023 Fees - Single Registrations
Vortex U19 Competitive - $175
Vortex U16 Intermediate - $175
Optional Jersey - $35
Fees include GST, VUL Membership etc. 
How to Register
Complete these steps to register:
All registration is done online, with payment accepted by credit card, Visa Debit, or e-transfer.
Make sure to choose the right location when options are presented.
If a player registers themselves, they must also get Parental Consent. Emails are sent to the player and parent/guardian with instructions. 
If you have a question, check out our Youth FAQ for answers. If you still need help, email youth@vul.ca
---
Vortex Coordinator Team 
Our instructors are knowledgeable and passionate and are ready to pass on everything they know to our up-and-coming players. Our Vortex Coordinators would like to introduce themselves so you can get to know them better! 
Brandon Grant
Brandon has been part of the Vortex Coaching team since 2014 and recently joined the Vortex Coordinating team. His connection with the program stems from being part of the first Vortex team to compete at CUC's back in 2005. Since then, he has devoted himself to understanding the game to improve the sport and give back to the game that he feels has given him so many opportunities. 
Jonathan He
Jonathan has been involved with Ultimate for over a decade, starting his career as a grade 9 player for the New Westminister Hyacks. While playing is something he enjoys immensely, coaching has become the main focus of his involvement with the sport. He is constantly expanding his coaching prowess. He has recently taken on the challenge of coaching an adult open club team after coaching at the secondary school, collegiate, and junior club levels.