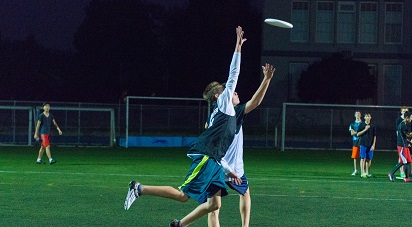 Play on Sunday evenings under the lights all throughout the fall! 
Note: The 2020 league has been cancelled due to COVID-19. Please see our Fall U19 Skills page to learn about clinics for intermediate and advanced players where you can improve your skills in drills, activities and scrimmages!
This league is great because it gives high-school youth the opportunity to play weekly with their friends in a fun but competitive, environment.
5-on-5 is fast-paced, and with subs on the fly, you'll be sure to stay warm. As well, the smaller field size and fewer players ensures that you'll touch the disc a lot - it's perfect for improving all skills, from a basic flick to that lefty scoober you're itching to throw in a game!
Playing Info
Cleats or runners can be used on synthetic turf fields, but we recommend cleats.
Important Dates for 2019
2020 cancelled due to covid-19
| | |
| --- | --- |
| August 12 | Online Registration Opens |
| September 15 | Pick-up Games |
| September 20 | Online Registration Closes |
| September 22 | Captain/Chaperone Meeting; Games Start |
| October 13 | NO Games - Thanksgiving |
| November 24 | Games Finish |
2019 Team Fees
| | |
| --- | --- |
| Event fee | $448.81 |
| GST | $26.19 |
| VUL Membership | $75.00 |
| Total | $550.00 |
| Chaperone Discount* | $100.00 |
* NOTE: If you provide your own Chaperone (or two) and they attend all games, we will refund $100 of your fee at the end of the season!
How to register
All players should be in high school, from age 14 to 18 (grade 8-12, as of December 31 this year). However, we will consider younger kids joining on a case-by-case basis.
You have two options:
TEAM: If you have organized 10 or more people to play, you can register as a Team. Note that we recommend a roster of at least 14-16 players. If you need more players to join your team, check the Matchmaker.
INDIVIDUALS: If you don't have a team, you can sign up for the Matchmaker, and potentially be picked up by a team that is in need of players. You would then pay the Captain of the team that you join a share of their team fees.
Complete these steps to register:
To register a team, all registration is done online. Payment can be done online with a major credit card, or you can send us a cheque prior to the end of registration. Only the Captain needs to pay the Team fee (players pay the Captain).
After registering your team:
Captains must complete their rosters by inviting players to join their team. See Help for instructions. Players will be asked to agree to the Statement of Consent, and confirm that they have Parental Consent to play. All players must be rostered before games start.
If your team is providing their own Chaperone, Chaperones must complete a Conduct Form, then scan this completed document and send it to the Youth Manager before the league starts.
All Chaperones and Team Captains must attend the Captain's Meeting on September 22nd at Point Grey turf field (meeting starts at 5:45 PM). This will be a quick meeting to discuss the logistics of the league, as well as expectations about conduct and fair play.
If you have a question, check out our Youth FAQ for answers. If you still need help, email youth@vul.ca