Overview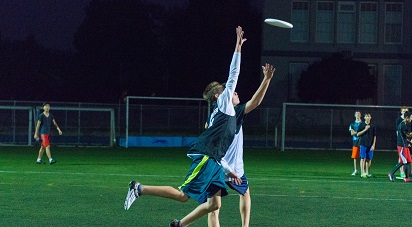 A fun co-ed league for high-school players. Play on Sunday evenings under the lights!
The fast pace of 5-on-5 will keep you warm due to subbing on the fly. In addition, with 5 players, each person tends to get more touches of the disc, so it's a great league for improving your skills.
Playing Info
Cleats or runners can be used on synthetic turf fields, but we recommend cleats.
How to register
All players should be in high school, from age 14 to 18 (grade 8-12, as of December 31 this year). However, we will consider younger kids joining on a case-by-case basis.
You have two options:
TEAM: If you have organized 10 or more people to play, you can register as a Team. Note that we recommend a roster of at least 14-16 players.
PLACEMENT: If you don't have a team, you can register as a Single, Duo or Trio, and we'll place you on a team with others who don't have a team.
Complete these steps to register:
All registration is done online, and payment can be done online with a major credit card, or you can send us a cheque prior to the end of registration. For Teams, only the Captain needs to pay the Team fee (players pay the Captain). For Placement, only one person in a group needs to register and pay.
Before the first game, all players must create an account on this website, and agree to the Statement of Consent.
On an annual basis, all players must provide Parental Consent. This is now done online. When a player registers or joins a roster, they are asked for their parent or guardian's contact information. Emails are then sent to the player and parent/guardian with instructions on how to provide consent. 
All teams are required to have at least one Chaperone at each game, and the Chaperones must complete a Conduct Form, then scan this completed document and send it to the Youth Coordinator before the league starts.
All Chaperones and Team Captains must attend the Captain's Meeting on September 25th at Point Grey turf field (meeting starts at 5:45 PM). This will be a quick meeting to discuss the logistics of the league, as well as expectations about conduct and fair play. All teams MUST provide their own Chaperone, the VUL will not be providing one for your team.
If you have any questions, email the Youth Coordinator: youth@vul.ca.
Important Dates for 2016
| | |
| --- | --- |
| August 22 | Online Registration Opens |
| September 18 | Pick-up Games, and In-person Payment |
| September 22 | Online Registration Closes |
| September 25 | Captain/Chaperone Meeting; Games Start |
| October 9 | NO Clinics or Games - Thanksgiving |
| November 27 | Games Finish |
2016 Team Fees
| | |
| --- | --- |
| Event fee | $261.90 |
| GST | $13.10 |
| VUL Membership | $75.00 |
| Chaperone Bond* | $150.00 |
| TOTAL | $500.00 |
* NOTE: If a team's Chaperone attends all games, this will be refunded at the end of the season.
2016 Placement Fees
| | |
| --- | --- |
| Single | $35.00 |
| Duo (2 people) | $60.00 |
| Trio (3 people) | $90.00 |
For Duo & Trio, at least one person must be female.
Note: If you register as a Team, you only pay Team Fees. Individual Fees are for those who register on their own to be placed on a team. See the How to Register page for more info.