Posted by Kristine on October 31, 2020 11:04 am
We've restarted our Community Spotlights campaign, where on the first Sunday of each month we'll feature a VUL community member who is doing awesome stuff for ultimate in Vancouver.
Allie Lambert
Allie is a long-time VUL member who is an incredible person to share the field with as a teammate or opponent. Wrote a friend, "Whether she's hammer-hucking to you as you sprint to the end zone, singing goofy songs to you after your team has played hers, starting a spirit circle after a hard-fought game, helping someone who was injured, or just heckling on the sidelines, Allie is the person you want on the field with you."
Allie brings her awesomeness to the VUL working behind the scenes as our social media coordinator -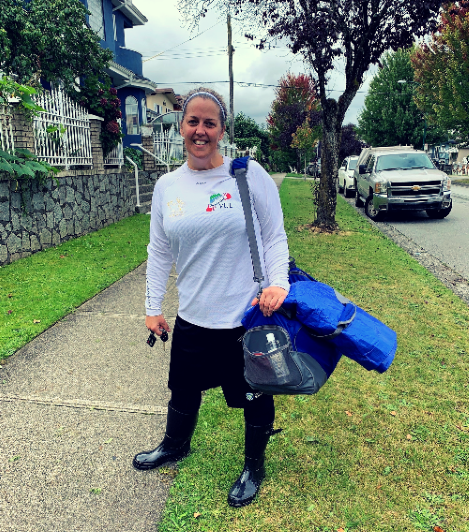 yes, it is Allie who brings joy to the start of your week with Monday Memes and who encourages you to improve your game through Tuesday Tips! Allie embodies SOTG and received the VUL's highest recognition in 2017 when she was awarded the William Arthur Hawkins Atwood Spirit Award.
# of Years in Ultimate:
20
Main teams:
Illegal Smile, Talk Nerdy to Me
Roles in the ultimate community:
Staff/coordinator, volunteer, mentor, captain, player
Tell us about a favourite ultimate memory.
Gosh, there are so many that I hold dear from the past 20 years. I do have fond memories playing with "The Sauce" in the early 2000s. Before each game we'd give a fun and enthusiastic cheer to start the evening off right. This was also the era when making up songs about the other team, on the spot, and singing it to them as the cheer was what you did. It was always so hilarious! There's just something about a group of tone-deaf people belting out an ulti-related rendition of Stayin' Alive.
What's your favourite throw and why?
I'm a big fan of the hammer; I threw 22 of them in a single game once. I also enjoy the o/i flick huck. Many teams (that aren't familiar with me) do not expect these type of long throws to come from me. There's still a stigma amongst some that women can't throw long and accurate, it's something that just the dudes do. I'm doing my best to cure that, one hammer at a time!
When you're not playing ultimate, what do you do?
For fun, I'm a gym rat. At least four days a week, I'm powerlifting/working out with my training partner and have been doing it for years. Lifting heavy things is fun and empowering; bench press is my fav! 
For work, which is also fun, I'm a Senior Assistant Director of Digital Communications up at SFU and I also take care of the VUL's social channels. I do have fun figuring out what each Monday's gif/meme is going to be!
What do you love about your team?
I've been fortunate to play on a number of fantastic teams with people that I adore. For this question, I'll talk about Illegal Smile. Illegal Smile is a team where, no matter your skill level, there is a place for you and there is a community of people who will welcome you with open arms. In my 10ish years of being on the team, Illegal Smile has always been made up of people who've been playing for decades and people who are new to the game. We encourage, support, teach and cheer on our teammates. We cheer on our opponents for great plays too! We sing. Yes we do! We have a selection of songs that we gleefully share with our opponents after the game. We have BBQ and beverages, no matter the weather. Even during this summer, we got together once a week to "practice" - well, hang out. We were missing each other! It is an amazing group of people, friends, that I would not have met if it weren't for Ulti!
Who have you learned the most from in ultimate, and what did you learn?
There are so many people that have taught me things over the years. Here are just a few... 
Torbin M: He is a SOTG grand master
Pete M: Kindness and chill-factor on/off the field
Stampy: When you're amongst awesome people, you can have a fun time, no matter the score or what weather is
The women from Prime: Fantastic role models for women in Ulti in my earlier days; strong and super skilled! It was also fun to play against some of the players in league (like AM on Spotty and the Dogs) and to witness/experience their skill; and to learn from them too!
Wayne and Virginia: They both have a great way of clarifying rules on the field when a call is made. It's not about "I'm right, you're wrong" but about trying to have all parties simply understand.
See what Allie shares next for the VUL on Facebook and Instagram.
Do you know someone we should highlight with our Community Spotlights? Tell us about them! Email mm@vul.ca for more info on how to nominate someone. 
Past Community Spotlights: